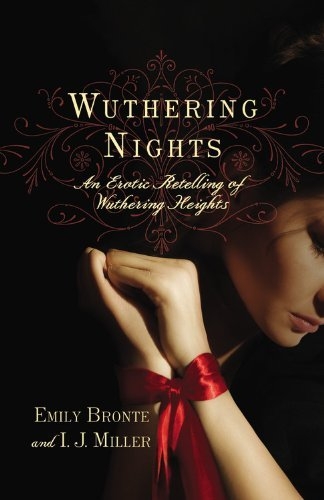 Early reviews:

"It is not simply Bronte's novel with sexy bits added. It is Miller's novel, deeply inspired by the characters, language, and story of the original...An inventive and perceptive re-imagining...Dark and sexy and compelling." Meredith Collins, editor/reviewer, five stars on Amazon

"I am happy to say we have an erotic retelling that actually gives us a deeper insight into the original work...It is an honest and special gift of an author to adopt the style of the original, and here it is done with verve and flair...The sex scenes themselves are burning hot, and also reflect the sensibilities of the era...T
his is a beautiful book, told impeccably well, and honest and true to the original.

We get to peek in the bedroom doors of these characters, imagining them in new and sultry ways; and in doing so, get a better understanding of them as people...

Highly recommended as intellectual, powerful erotica that makes us question the past, while looking at ourselves in the present." E-Read Erotica Reviews, http://ereaderotica.com/?p=721

"Miller has demonstrated a talent for probing psychological complexity, often revealing the pain and poetry of dysfunction in surprisingly entertaining ways...The logical—and, as it turns out, fortuitous—choice for this project... Deep down, we've always been curious about Heathcliff and Catherine; Isabella, and even Nelly; daydreaming about "what really happened" behind Brontë's straight-laced curtain of prettified euphemism...The new narrator is able to go places and see things that Nelly could never have known—nor ever dared repeat...I jumped back and forth on my Kindle between Miller and Brontë from time to time, finding on the whole a near-seamless consistency... Especially for those craving a more refined approach to erotic romance, Wuthering Nights should make for an agreeably seductive divertissement, and is well worth a look." Erotica For The Big Brain review

"Miller's Wuthering Nights is incredibly sensual and sexual. Its erotic scenes are as unflinching in their detail as the original was in its harshness, and the characters' sexual appetites are as unrestrained as their dysfunctional passions. And if you're skeptical about how Heights could become Nights, let me assure you: the erotic passages are so smoothly integrated into the tale, it's hard to remember the original without them." Debra Hyde, author/editor/reviewer, five stars on Amazon

"WUTHERING NIGHTS is a great new spin on an old classic that is sure to delight a wide range of readers. Fans of Wuthering Heights will love the level of heat that was missing from the original. Readers who skipped the classic will be delighted to learn the basic tragic story, but spiced up for today's erotic reading pleasure." I Love Bookie Nookie review blog http://bookienookiereviews.blogspot.com/2013/05/review-wuthering-nights-erotic.html

"With an eye on the arousing, and an aficionado's consideration for remaining true to the spirit of the original, Wuthering Nights gives us a no-holds-barred retelling of the most powerful romantic story of all time." Ashley Lister, Erotica Readers and Writers Association blog http://www.erotica-readers.com/ERA/EB/Popular_Erotic_Books.htm

"I.J. Miller's retelling of Bronte's story about the love between Heathcliff and Catherine is a wonderful read. We can only imagine how difficult it must be to step into another author's shoes and rework a novel that has thrilled readers for so long...The romance bursts into life with the addition of eroticism that truly enhances the emotions between the lovers and propels the plot forward." Amos Lassen, reviewer

"Read it before sleep and had the most glorious of dreams....Beautifully written, most believable, and definitely put a smile to my face." Susana Mayer, author/editor/reviewer, five stars on Amazon

"I absolutely love this retelling. Thank you, I.J. for the great read! It was most definitely an emotional roller coaster that took me for the ride of my life!" Christina Irelan, Intoxicated by Books blog

"Scorching, explicit...All I can say is that if more of the classics had been written like this, I sure as hell would have been more excited to read them!" Lindsay Avalon's blog, http://lindsayavalon.blogspot.com/2013/04/interview-and-review-with-ij-miller.html?zx=a037605aa4c5a24d

"The author does a fantastic job of interweaving an erotic version of the classic book with Emily Brontë's story. Whether or not you have read
Brontë's novel, this book is a sizzling story that will stand on its own."

RT Erotic Reviews

, http://bit.ly/10nyQzD

"I am a huge fan and recommend it to those up to the task. A tip of the hat to I.J. Miller for reimagining a book so well." Urban Girl Reader blog, http://www.urbangirlreaders.com/2013/04/25/review-wuthering-nights-by-i-j-miller/

"If you are a fan of both erotica and Wuthering Heights, you will love this book." Karen's Review

"I really enjoyed the book, and I'm glad that I got the opportunity to visit Catherine and Heathcliff. Fans of erotic romance, or the original book, will almost certainly enjoy this one." ThinkingCatBlog

"Miller did an excellent job blending the characterization provided by Brontë with the new elements he brought to bear on the story. Actually, I thought Miller did a great job with all the characters." Readingwithanalysis

"This title was seriously hot!" That's What I'm Talking about blog

"Wuthering Nights is some of the better D/s-centered erotica I've read." Ate the Peach blog

"I am sure Bronte would have been happy with the additions." Amazon five star review

Blog posts:

My article "An Erotic History" appeared in the Huffington Post:
http://www.huffingtonpost.com/ij-miller/an-erotic-history_b_3140977.html

WUTHERING NIGHTS makes top ten list:
http://cltampa.com/dailyloaf/archives/2013/04/01/between-the-sheets-top-10-most-provocative-books-out-this-month#.UVoIuqKG2So

Probing interview and "dominant" excerpt in Cecilia Tan's blog: http://blog.ceciliatan.com/?p=1217#more-1217

Wuthering Nights voted number one on Goodreads Reimaginings/Sequels list: http://www.goodreads.com/list/show/24544.Wuthering_Heights_reimaginings_sequels#16089356

Revealing interview in Erotica For All blog: http://eroticaforall.co.uk/interviews/interview-i-j-miller/

Interview, review, and giveaway in Lindsay Avalon's blog: http://lindsayavalon.blogspot.com/2013/04/interview-and-review-with-ij-miller.html?zx=a037605aa4c5a24d

Interview and steamy excerpt (Hareton & Cathy are sensually romantic) in Bebe Balocca's blog: http://bebebalocca.com/2013/05/02/full-exposure-with-i-j-miller/

Interview in Reading With Analysis blog:
http://readingwithanalysis.wordpress.com/2013/05/04/author-i-j-miller-and-i-look-at-erotica-from-both-sides-now/

New interview in Bodice Ripper Novels blog:
http://bodicerippernovels.wordpress.com/2013/04/22/qa-and-giveaway-with-i-j-miller-author-of-wuthering-nights-an-erotic-retelling-of-wuthering-heights/

Interview and excerpt in Wickedly Sexy Writers blog: http://wickedlysexywriters.wordpress.com/2013/04/23/i-j-millers-wuthering-nights/

Secrets revealed in Kissing Velvet blog:
http://elizabeth-cage.blogspot.co.uk/2013/04/ij-millera-secret-confession-and-guilty.html?zx=11db6fb781b419dc

Interview and titillating excerpt in Liv Honeywell's blog (Heathcliff and Isabella on their surprising and intense honeymoon!):
http://liv-honeywell.com/ij-miller-erotica-author-interview/

WUTHERING NIGHTS featured in Danielle Ravencraft's Romance Realm blog with a sizzling excerpt depicting Heathcliff and Catherine's first serious intimate encounter:
http://ravencraftrealm.blogspot.com/2013/03/wuthering-nights-erotic-retelling-of.html?zx=9b725d218fb437c1

USA TODAY says I'm ready to curl some toes: http://www.usatoday.com/story/happyeverafter/2013/04/26/new-releases-erotic-romances-april-2013/2113455/

Scorching Book Reviews makes Wuthering Nights a top pick: http://scorchingbookreviews.blogspot.com/2013/04/top-picks-21st-27th-april.html?zx=437f2408f233c18d

Interview and giveaway in Urban Girl Reader blog:
http://www.urbangirlreaders.com/2013/04/25/wuthering-nights-by-ij-miller-interview-and-ppb-giveaway/

New interview and excerpt in L.M. Brown's blog:
http://lmbrownauthor.blogspot.com/2013/04/guest-blogger-lj-miller.html?zx=de69c77fecebac9c

Guest blog and excerpt in Dirty Birdies blog: http://bit.ly/12IVQgP

Guest blog and intense excerpt appeared in Lily Harlem's blog:
http://lilyharlem.blogspot.co.uk/2013/03/wuthering-nights-by-emily-bronte-and-ij.html

NEW REVEALING INTERVIEW APPEARED IN THE NAUGHTY READER'S BLOG:
http://naughtyreaders.blogspot.com/2013/03/author-interview-i-j-miller.html?zx=c975cab7a99a1899

NEW GUEST BLOG "A MALE EROTIC ROMANCE WRITER?" (AND EXCERPT) IN KAY JAYBEE'S BLOG:
http://kayjaybee.me.uk/news/guest-blog-ij-miller-a-male-erotic-romance-writer/

GUEST BLOG AND STEAMY EXCERPT IN KISSING VELVET BLOG: http://elizabeth-cage.blogspot.co.uk/2013/03/how-to-write-good-erotic-mashup.html?zx=99b238b51825fc4b

GUEST BLOG AND ANOTHER HOT EXCERPT IN LORRAINE PEARL'S BLOG: http://authorlorrainedpearl.wordpress.com/2013/03/02/i-j-millers-wuthering-nights-an-erotic-retelling-of-wuthering-heights/comment-page-1/#comment-524

SMOKIN' EXCERPT FROM WUTHERING NIGHTS FEATURED ON FREQUENTLY FELT BLOG:
http://frequentlyfelt.blogspot.com/2013/02/excerpt-from-wuthering-nights-by-ij.html

WUTHERING NIGHTS GUEST BLOG PIECE: "MY HERO'S A BRUTE!" IN AUTHOR SOUND RELATIONS:
http://www.authorsoundrelations.blogspot.com/2013/02/i-j-miller-my-heros-brute.html

WUTHERING NIGHTS GUEST BLOG PIECE: "I.J. AND E.L." IN THE EROTIC LITERARY SALON:
http://theeroticsalon.com/blog/wuthering-nights-an-erotic-retelling-of-wuthering-heights-by-i-j-miller-march-19th-featured-reader/

NEW WUTHERING NIGHTS INTERVIEW PUBLISHED IN ROMANCEJUNKIES.COM: http://www.romancejunkies.com/rjblog/?p=3359

WUTHERING NIGHTS GUEST BLOG PIECE "HOW TO WRITE A GOOD EROTIC MASHUP." http://howtowriteeroticfiction.blogspot.com/2013/02/how-to-write-good-erotic-mash-up.html?spref=tw

WUTHERING NIGHTS GUEST BLOG PIECE "THE INTERNET CHANGED MY NAME" IN KRISTAL BAIRD'S BLOG:
http://kristalbaird.blogspot.co.uk/

INTERVIEW PUBLISHED IN BOOKWENCHES, 8/15/11: http://www.bookwenches.com/iviewijmiller.htm

ARTICLE PUBLISHED IN THE PHILADELPHIA CULTURAL SALON, "WHEN SEX ISN'T PORN." http://theeroticsalon.com/uncategorized/momentum-conference-when-sex-isnt-porn-ij-miller/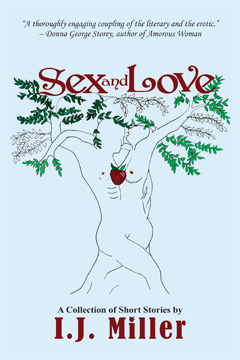 I'M DOING READINGS IN JULY, SEPTEMBER, AND NOVEMBER, 2013... AND YOU'RE INVITED!

Friday, July 5, 7pm, at The Happy Ending Lounge, 302 Broome St, New York, NY.

http://betweenthecovers.journurl.com/
Thursday, September 26, 7pm, Tenafly Public Library, 100 Riveredge Rd., Tenafly, NJ
Tuesday, November19, 8pm, an Erotic Salon event at Time Restaurant, 1315 Sansom St., Philadelphia, PA.
http://theeroticsalon.com/live-salon-info/
HOPE TO SEE YOU THERE!
---